December 2020
From December 26 till February 23, I will be aboard the R/V Roger Revelle on a cruise to the Pacific sector of the Southern Ocean to investigate the biological and chemical conditioning of Sub-Antarctic Mode Water. Follow along with the cruise blog here. I will have limited email access during this period.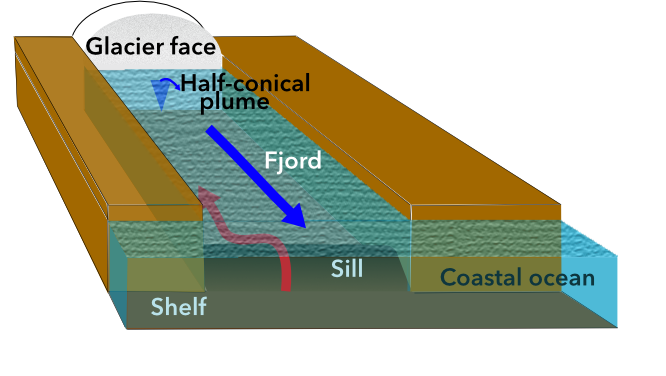 June 2020
The last chapter from my PhD is published in JGR. For this work we combined buoyant plume theory with a biogeochemical model in an idealized fjord-scale ROMS model to assess potential important factors on nutrient export beyond the fjord, and found that subglacial discharge rate, grounding depth, and controls on nutrient residence time could all exert a large influence on transport. Check out ICEPLUME for ROMS here.
February 2020
On Feb. 12 I gave a seminar on my Greenland modeling work to the AOPE Department at WHOI, and on Feb. 21 I gave my early-morning talk at the Ocean Sciences Meeting in San Diego.
January 2020
I have registered for the 2020 Ocean Sciences Meeting in San Diego, and will be there all week. I will be presenting the research from the last chapter of my dissertation, where I model meltwater-enhanced nutrient export from Greenland's glacial fjords. Come by my poster on Thursday, Feb 20 from 4-6 talk from 8:00-8:15 AM on Friday, Feb 21 (session HE51A - Moving Beyond Melt: The Impact of Melting Glaciers, Icebergs, and Sea Ice on Ocean Environments)!
December 2019
I've been elected to the WHOI Women's Committee! Very excited for this opportunity to ensure better support for all women and non-binary people across this institution.
October 2019
I have started as a Postdoctoral Scholar at Woods Hole Oceanographic, working under the supervision of Dennis McGillicuddy and Gordon Zhang. I will be doing physical-biogeochemical modeling in the mid-Atlantic bight during my time here.
August 2019
The final draft of my dissertation has been submitted, and all of my degree requirements are done! Thanks to everyone who supported me through this journey. I have now left Athens, and will be taking the next few months off to finish up some manuscripts before starting at WHOI as a Postdoctoral Scholar in October.
July 2019
I went back to sea in the mid-Atlantic bight with the SPIROPA team for another two weeks, but this time on the Thomas G. Thompson. Thanks to everyone on board for another great cruise!
June 2019
I successfully defended my dissertation on June 10. Thank you to my advisors, my committee, and my friends and family for all of their support through these PhD years.
May 2019
I went to sea (for the first time in nearly five years)! I spent two weeks in the mid-Atlantic bight with the Shelfbreak Productivity Interdisciplinary Research Operation at the Pioneer Array (SPIROPA) team, with Dennis McGillicuddy as chief scientist. Special thanks to fellow CTD watch leaders Gordon Zhang and Marshall Swartz for all their hard work and patience training me. Looking forward to heading back in July!
My new first-author paper in GBC is now typeset and ready for consumption. For this study we used a 1-D model to evaluate the importance of light vs. iron as controlling factors on the extremely productive Antarctic polynya in the Amundsen Sea. GBC PDF here. This study is complementary to our 3D modeling study published earlier this year in JGR, led by Pierre St-Laurent. JGR PDF here.